This past weekend, I had a delightful reunion with my book people. It was a wonderful weekend where I alternated between tweeting my notes and scribbling on paper - and I thought what a better way to bring it all together than a blog wrap-up! Sometimes it can be overwhelming to learn so much and not quite know how to process - but here's my attempt to share some favorite take-aways from this favorite professional and personal retreat for me - (shout out to one of my fabulous professors at Coker College, who during our grad school program recommended this for us M.Ed. candidates in literacy! It's been a love affair ever since)!
Day 1
Session A: Create and Animate: Setting Original Poems to Animation
by Allison Blizzard, Lakeside Middle School
Super cool poetry animation project to get often poetry-reluctant students eager to not just make a sweet animation using
Powtoon
, but truly understand poetry's deeper levels (tone, mood, sounds, rhythms, cadences, symbolism, themes). Absolutely great project! She even was able to host an award-style show where finalists were all screened at a school event with guest judges, parents, and peers! Fabulous audience expansion and real-world authenticity opportunity to create and publish.
Teacher love:
"Kids that I didn't have working before. They're working."
So much love for negating the narrative of "But... this won't work with my kids." Haha, yes, thank you Mrs. Blizzard for addressing this. It certainly will work, will any students given the right expectations! Kudos to you for calling that out.
And also lots of love for reminding people we all need to learn first too, to truly help facilitate with our students, "Don't have your kids do something that you haven't done yourself."
Side Note: She had lots of other wonderful wisdom, but those I was able to scribe somehow :)
Student love
:
"It's not hard, but it does take time."
"Yes, I think I'm a poet now, but no, I didn't like poetry before."
Pro tips for Using Powtoons:
have students sync with Google Accounts (if GAFE school)
have students sign up 2 days in advance of project work: this will enable you to skip the two day "free test period" of added features, that then will lock up & keep bugging you to subscribe and pay for advanced features
Keynote 1: "Diving Deep Into Fiction and Nonfiction: Texts with Readers Rules of Notice"
by
Jeff Wilhelm
, Author, Educator, Professor
Really great pieces of advice thinking about reading not just as teachers, but as citizens and proponents of humanity.
Quotables:
"Reading is not natural, it is cultural..." Often as educators we forget this as readers who have been fluent for 20+ years. Thinking more about reading as a cultural practice can absolutely put a different lens on the work we do.
"Reading is a civil right." This for me fundamentally got to the heart of his keynote. As teachers, each day we serve our students as agents of democracy. For the free exchange, promotion, and debate of ideas our students must be able to read, discern, evaluate, infer, and read again.
"Every text is written by somebody... who wants to manipulate you" - he described how we must teach our students to think 'Do I want to go down this road, or do I have other facts, opinions, sources from other text that I find stronger...?' A question we all must ask ourselves as we evaluate an ever-growing number of sources
"Stop learning and listen to me" - this was his way of closing out partner discussions and calling us back to attention, and he shared he also uses that when he teaches. It made me giggle, because it is often so true. Let students collaborate, that's where the learning happens!
"Reading is the sequencing of inferential logs" - We constantly read, infer, sequence that in relation to other knowledge. Read, infer, sequence - an interesting way to think of our knowledge accumulation, and very procedural, which would make a great flow-chart :)
"Reading as Top down and bottom up" - Here he explains and demonstrates the four things to notice as readers read, create meaning, notice, and re-create meaning as they continue








Sessions B & C:
I was presenting with some fabulous colleagues in these, so sorry I am not of much help! Feel free to check out the
Handouts Dropbox
though and find more great info and ideas!
Keynote 2: "Making World Citizens One Book at a Time"
by
Jane Yolen
, Author
First of all, I cannot imagine writing over 350 books. That in itself is just incredible, and huge kudos to her for bringing so many incredible stories to children. Her keynote focused on diversity in children's literature, from someone who worked within publishing, and from her experience as an author.
Quotables:
"We still don't have enough of those kinds of books..." [diverse ones]
"Publishing is a business... often the very small arm in a publishing empire." - the attention she drew to the numbers side of the business is really interesting. I wish I was able to scribble down faster, but I was so immersed in her stories I am just glad for this overall impression. Remembering that our dollars communicate to companies - we've certainly come far but have even further to go. This is where authors self-publishing, or using kickstarter or similar fundraising sites to kick-start their publishing costs really has the possibility to transform publishing.
85-90% of books sold in children's lit was to education market, now that is down to 35-40%.
"Don't ask permission, just do it, it's the right thing to do." [Advice that she gives :) which is just perfection].
Her List of Recommendations:
Day 2
Keynote 3: "Telling Stories Through Poetry"
by
Glenis Redmond
, Road Warrior Poet
Her keynote was such an inspiring one to kickstart our last day. Using stories through poetry to connect to our humanity and shared stories - English Teachers dreams all day long! Incredible work she does through The Peace Center for the Performing Arts in Greenville - definitely worth checking out! I bought two of her collections,
What My Hands Say
and
Under the Sun,
and have been absolutely mesmerized every since :) She referenced two specific poetry styles, praise poetry and persona poetry - stay tuned for more resource links!
Quotables: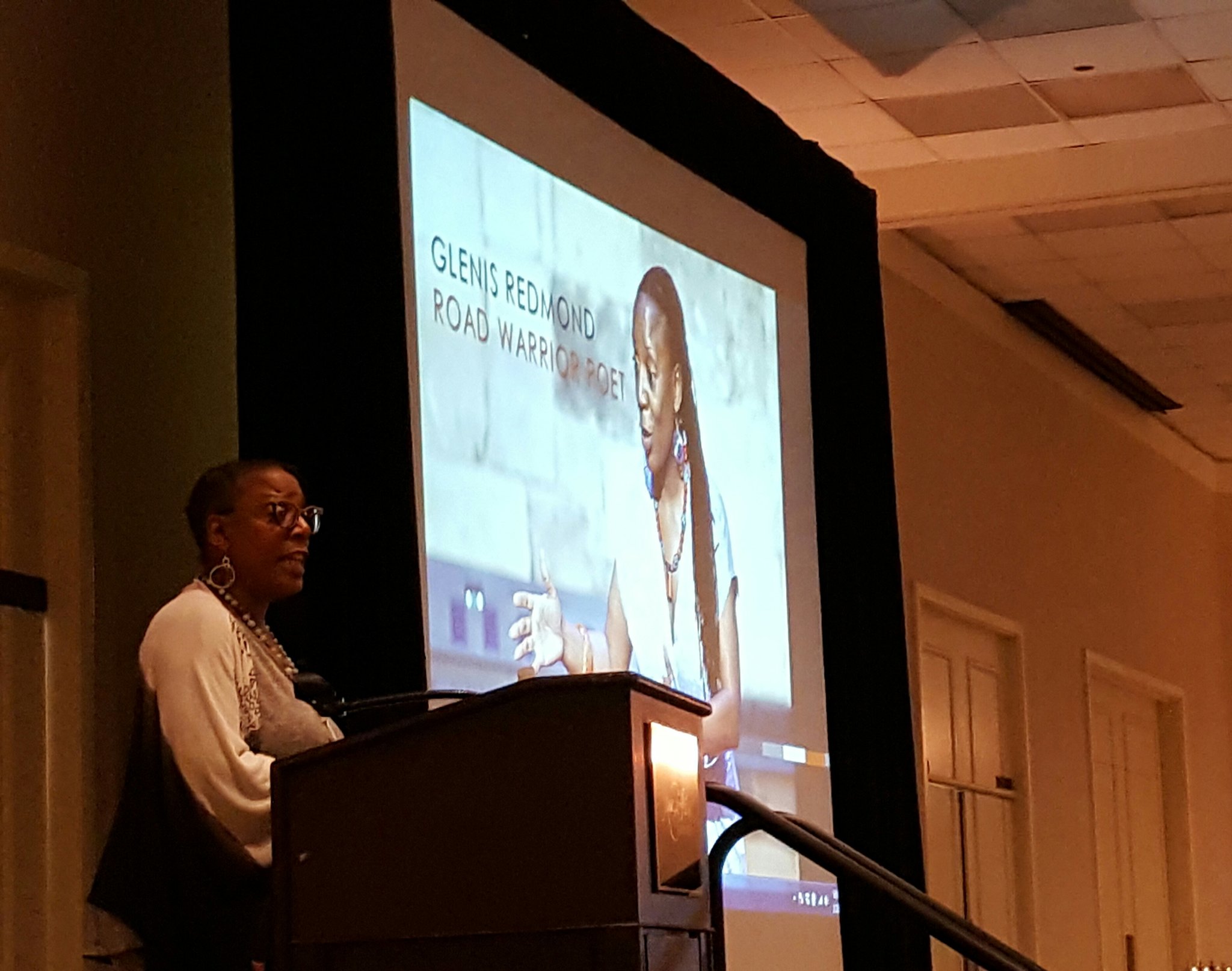 "Who are people in our lives who we stand for..."
"I knew as I was extending myself... it wasn't just for me"
"I said 'watch'." (In response to being told in a graduate program not to write about family).
"These stories are useful things... [a] cane I lean on"
Asking students - "who are you" (and using those stories to get to the heart of our shared community, finding how our roots shape us and bring us forward)
"What you seek is seeking you"- Rumi - flows so perfectly with the idea of seeking roots and coming full circle


Session E: Writing Beyond the Classroom with Multimedia Texts
by Amanda Graham, Latta High School & Matthew Nelson, Francis Marion University
This session gave a great overview of how to easily integrate high interest texts that are multimedia and 'real world' for our students. In collaborating on how to make this happen, they came up with a fabulous list of daily activities set around major themes. To view their entire presentation, thankfully it's
available for viewing here
. So here's the weekly routine:
Memory Palace Monday

podcasts by Nate DiMeo, which as they describe works at "telling 'forgotten' stories from history"

TED Talk Tuesday

Using a variety of Ted Talks, evaluate and reflect on their "innovative approaches to current challenges"

Wild Card Wednesday

For teacher flexibility - recommend memes, music videos, picture books, etc.

Throwback Thursday
Free-for-All Friday

Opportunity for students to free-write, or teachers to use different prompts. Website Thought Questions that may help spark some ideas
The idea is that students of course, have a huge knowledge bank to draw from as each day they learn, infer, discuss, make connections and build background knowledge as well as critical thinking skills, and relevant real-life discussion and writing skills. So read/view/listen/analyze the text of the day, write, reflect, discuss.
Session F: Community Engagement and New Media Writing
by
Christine L Masters,
Francis Marion University
Really fabulous at both thinking big picture (what does literacy look like for the 21st century?) and step-by-step (how could I make this happen?). Christine's freshman students worked to create an app for a local park when they realized the kind of 'writing' they could do for their English Composition Class may be best served by being digital. I just love that this stemmed from the inquiry - after visiting the park, when the question asked was 'what kind of writing can we do for this park?' - the student answer: 'an app!' This kind of real-world learning is so needed in English classrooms K-12, and in higher ed.
Teacher love:
The assignment of Rhetorical Analysis of a Website or App. Just like any other text, there is a lot to be analyzed!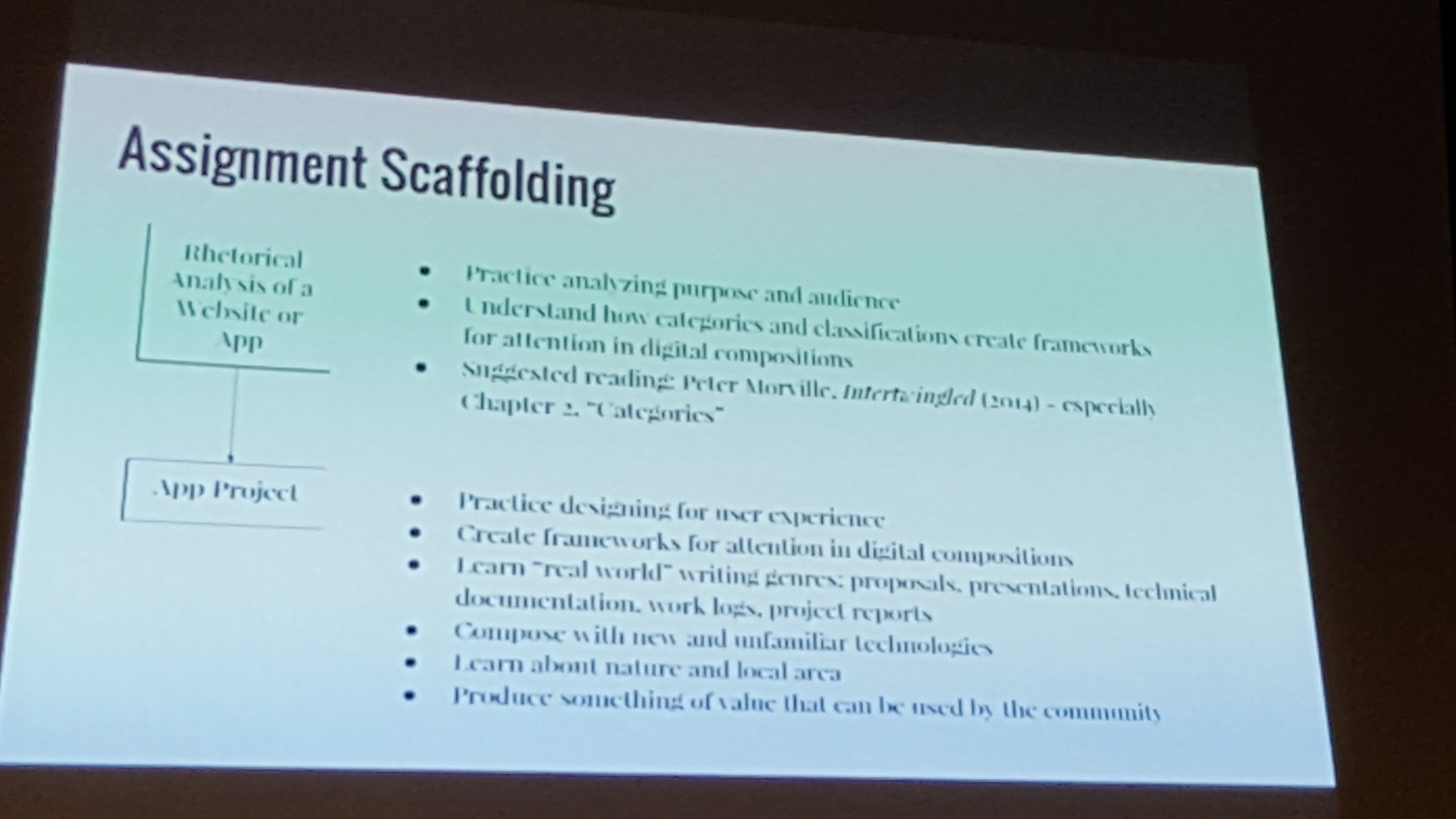 The thoughtful, incredibly helpful step-by-step of how this takes shape! Flow charts = teacher heaven.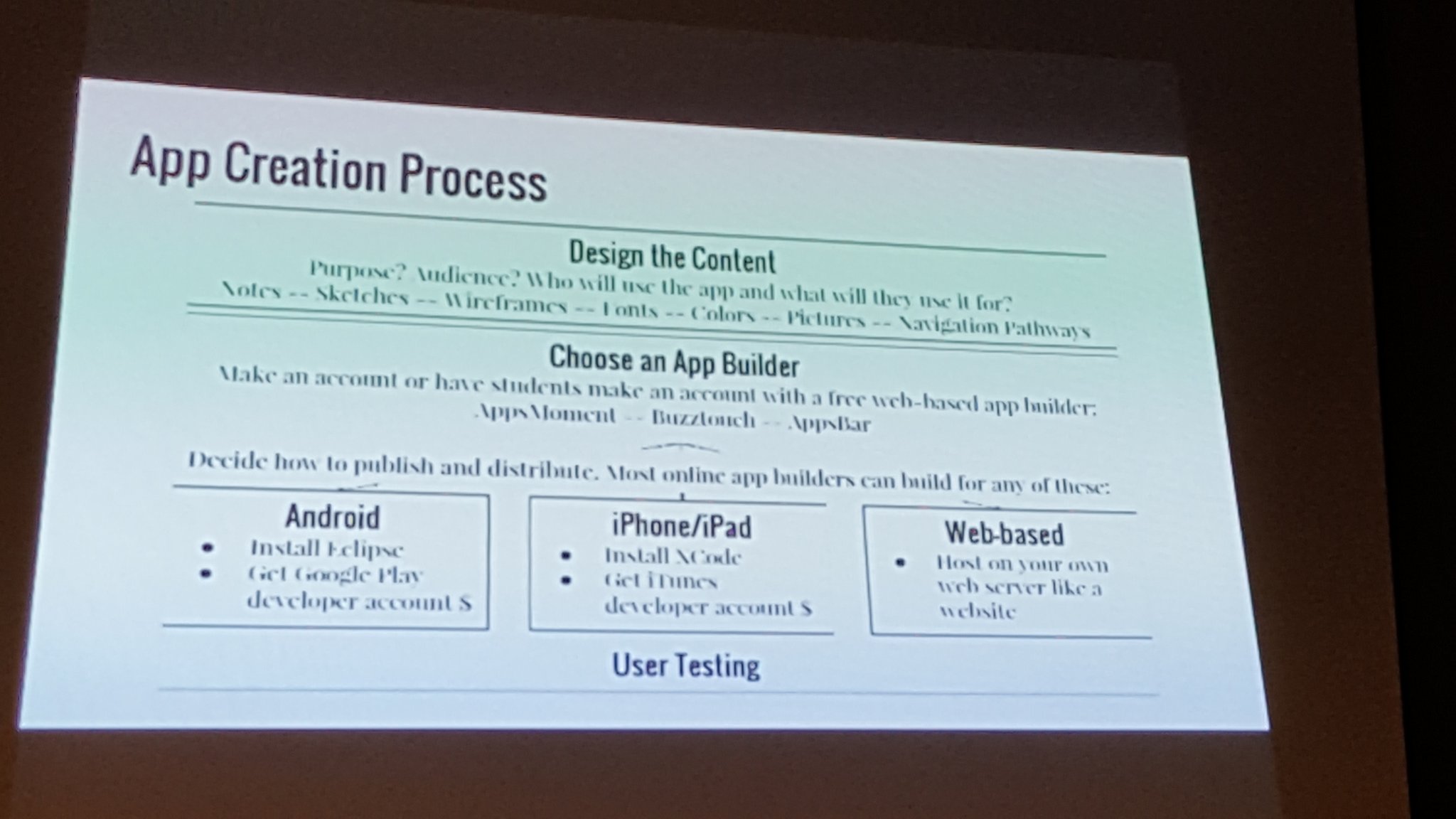 Session G: Writing Beyond the Book: Creating Alternate Texts
by Gail Hayes, West Florence High School
This session was just a perfectly inspiring way to end our conference about Writing and Reading Beyond the Classroom. The science behind it is pretty fascinating too - compared to reading (which thanks to Jeffrey Wilhelm, I'm reminded is cultural, not natural), visuals "we are wired for" as Gail spoke about. Our brain can process a visual scene in less than 1/10th of a second, and almost 70% of all sensory receptors are in our eyes. No wonder we love to "read the pictures." So while we certainly have plenty of text, visuals can be a great way to breathe other text styles into the classroom, and serve as a great tool to synthesize and create new understandings.
Ideas to play with:
Word Clouds (to describe course, literature theme review for text, etc.)
Infographics
Maps

Have them plot the course through the course, or a text

Pie Charts

Analyze the percent of fault for the conflict in a novel, graph all kinds of data!

Graphs

Syntactic analysis: As a means for deeper revision, have students track their sentence length and variety - can create a very purposeful reason to re-read and revise with a specific goal in mind
Graph "Traits of a hero" - which protagonist shows traits? Rate on 1-10 scale and graph the comparison

Memes

(Absolutely adore these for vocabulary - this one very much home for GOT fans!)
Quotables:
"They need to understand the way they [media] work and how to construct it... If we're going to create intelligent, informed consumers, they need to understand the way they're constructed."
"The thing I love about anything using technology.... one of your students in every class will be transformed into a learner."
"[There's]... such a pride in ownership when they create things that look like this!"
All in all, a fabulous conference yet again! Hope to see you there next year! Any favorite English conferences you enjoy?